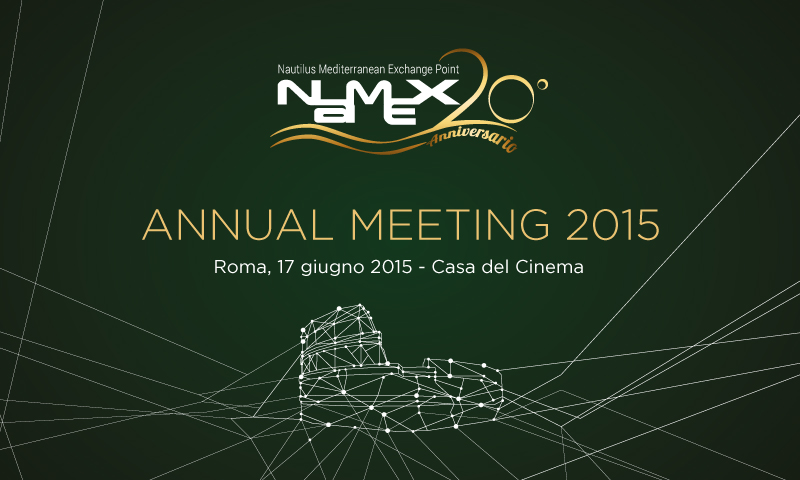 The 2015 edition of NaMeX Annual Meeting  was held in Roma, on June, 17th 2015, at the "Casa del Cinema" (Largo Marcello Mastroianni, 1 – Villa Borghese).
The 2015 edition verged on two main topics. The first theme on debate aimed to describe the evolution of the Italian landing stations and the role of the Exchange Points. The second drew attention on the scenario of cyber security and its relation with the protection of privacy.
The Meeting opened with the latest news on the European strategy for the Digital Single Market, recently presented by the Commission, with the lawyer Innocenzo Genna.
This morning section hosted:
Alessandro Talotta, CEO, Telecom Italia Sparkle
Maurizio Goretti, General Manager, NAMEX
Joy Marino, President, MIX-IT
Arnold Nipper, CTO, DE-CIX
Simone Bonannini, Managing Director, Interoute
Giuseppe Sini, Chief Sales & Marketing Officer, Retelit
In the afternoon, some of the main experts for the sector discussed the challenges related to the spreading phenomena of cyber crime and on the strategies to counter-attack the upsurging threat, in respect of the protection of privacy and liberty of expression, fundamental values of the Web.
The afternoon section hosted:
Andrea Rigoni, Chairman, Intellium
Prof. Roberto Baldoni, Executive Director Research Center for Cyber Intelligence and Information Security, Università La Sapienza di Roma
Giuseppe Colosimo, Senior Manager Business Line Security, NTT DATA Italia
Rocco Mammoliti, Chief Information Security Officer, Poste Italiane
Gen. Umberto Maria Castelli, Commander, C4 Defense Command
Francesco Modafferi, Italian Privacy Authority (Garante per la Protezione dei Dati Personali)
On. Stefano Quintarelli, MP, Scelta Civica
The meeting was moderated by Cristoforo Morandini (EY).
Featured content: